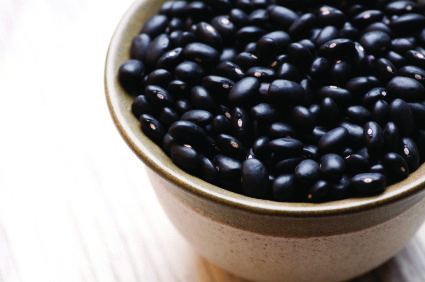 Today's tasty recipe is something Becca found on SparkPeople! It is too good not to share. While traditional hummus does have healthy fats in it, it's still easy to go overboard and get far more than your daily allowance. This low-fat recipe will have you going back for seconds 🙂 Rather than the "2 TBSP" servings of traditional hummus (weighing in at 16 grams of fat!!) you can have HALF A CUP of this tasty alternative! ENJOY!
Recipe submitted by SparkPeople user SP_STEPF.
Hummus goes South of the Border! I dip carrots and celery into it, or I eat it with tortialla chips for a snack. You can even use it as a spread on a sandwich!
Minutes to Prepare: 5
Minutes to Cook: 5
Number of Servings: 8
Ingredients
2 T chopped fresh Cilantro
 Directions
Drain and rinse black beans if using canned.
Place olive oil in skillet set over medium-high heat. Add onions, peppers, and garlic and saute about three minutes, until vegetables are fragrant and starting to brown slightly. Add cumin, stir well, reduce heat to medium and cook another two minutes.
Place beans in food processor and pulse several times. Add vegetable mixture and pulse a few more times. Add vegetable broth in small batches to thin the dip to the desired consistency. Garnish with chopped cilantro. Serve immediately or store in refrigerator for up to 10 days.Makes eight 1/2-cup servings!Number of Servings: 8
Calories per Ingredient
Here are the foods from our food nutrition database that were used for the nutrition calculations of this recipe.
Calories per serving of Black Bean 'Hummus'
100 calories of Beans, black, (0.44 cup)
7 calories of Olive Oil, (0.06 tbsp)
6 calories of Cumin seed, (0.25 tbsp)
5 calories of Green Peppers (bell peppers), (0.13 cup, strips)
3 calories of Onions, raw, (0.13 small)
2 calories of Garlic, (0.38 cloves)
0 calories of Pacific Natural Foods Organic Low Sodium Vegetable Broth, 1 cup, (0.03 serving)
0 calories of Cilantro, raw, (0.25 tbsp)